International Day of Peace - Wanganui 2012
Wanganui celebrates the International Day of Peace, 21 September 2012
2012 marked the 10th anniversary of the dedication of the Wanganui Peace Sculpture, Handspan, to a Culture of Peace and Non-violence for the Children of the World, by H.E. Governor-General of New Zealand, Dame Silvia Cartwright.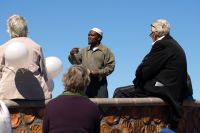 This year, as in previous years, the community again gathered at 12 Noon to link with people throughout the world, who also met at midday local time to unite in prayers and to confirm their commitment to peace and goodwill to all beings: Kaumatua John Maihi opened with a blessing, followed by prayers and invocations by representatives from the Christian, Muslim, Hindu, and Baha'i faiths, concluding with Cr Sue Westwood re-dedicating the sculpture to a culture of peace. Before the release of 10 white balloons with white paper doves attached, Meg Hartfield read her beautiful poem written for this occasion. On this beautiful sunshine day, we all followed the flight of the cluster of balloons until out of sight.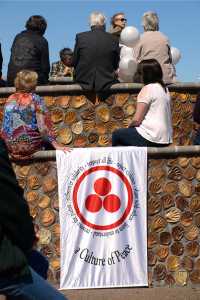 PEACE
Peace — immeasurably more
Than absence of war
Non-violence a way of living
Greenness
Blueness
Quiet breathing
Sacredness of the other
Admitting — 'I may be wrong'
Standing strongly for the right
Standing fearlessly for truth
Standing positively for justice
All held
In the word — LOVE
We were so delighted that Dr. Kate Dewes and Commander Robert Green had agreed to join our celebrations, and we kept them busy with several engagements to speak:
on 19th September Kate and Rob spoke on the theme: "Where Next for Nuclear Disarmament" to an enthusiastic group of U3A members; followed
on 20th September by a speaking engagement in Alexander Heritage & Research Library where they spoke about their two books: "Security Without Nuclear Deterrence" and "A Thorn in their Side". And in the afternoon
on 21st September, we met again for a final celebrative tea and birthday cake at the Quaker Settlement, before entering the 'Quiet Room', decorated with the flags of all UN member countries. We then, as in previous years, mentioned each and every nation asking that peace will prevail in them all.
Our key speaker, Kate Dewes, spoke to the theme for this year's Peace Day: "Sustainable Peace for a Sustainable Future".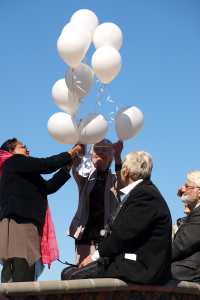 A nation's culture resides in the hearts and in the soul of its people
Mahatma Gandhi