Culture Of Peace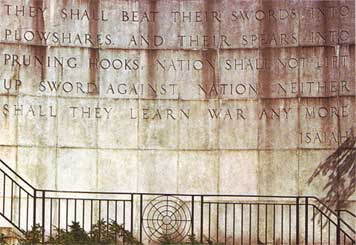 United Nations High Level Forum on the Culture of Peace, September 2013
This second High Level Forum is jointly sponsored by the President of the General Assembly and the Global Movement for the Culture of Peace. Registrations to attend are open until the end of the day in New York on September 3. The event can be watched at webtv.un.org/. More information is available here.
United Nations High Level Forum on the Culture of Peace, September 2012
Peace through Unity representative to the UN, Sharon Deep, spoke on a panel during the first ever high level event at the United Nations dedicated to the Culture of Peace. She spoke on behalf of the Global Movement for the Culture of Peace. Read her presentation here.
United Nations Department of Information, NGO Briefing
Culture of Peace: Amplifying the Unseen and Unheard Voices of Peace, January 2012
At the first Briefing of the year for NGO's, the UN's Department of Public Information brought together four prominent advocates for peace to speak about the Culture of Peace. This popular and well-attended briefing ended with a special message from Peace through Unity Co-Founder, Gita Brooke read by Chuck Hitchcock, Chair, NGO/DPI Executive Committee. You can read Gita's message, sent to the Briefing from the small city of Wanganui, New Zealand, here.
Peace Security and Disarmament
read the paper by Gita Brooke presented at the United Nations Assn. of New Zealand AGM Conference on May 31, 2008
"When humankind saw its earthly habitat from space a new era was born.
Seeing the radiant blue sphere enfolding the earth and all that lives and evolves within and upon it must bring all sense of separation to an end. Every single cry of despair or pain will be heard by all, and the victory of one will be celebrated by the many. A new culture emerges bringing each and every one to its highest, most beautiful expression. Humankind growing up, soul-infused, becoming what it was meant to be". (Inaugural statement for OPTU's culture of peace initiative)
Culture is and has always been at the very heart of the life of humanity – of every tribe, nation and civilization. Through religion, the arts and science and through the values we let characterize our lives humanity has gained ever deeper understanding of the universe and the role we are to play within this continuously evolving wondrous whole.
On 20 November 1997, the UN General Assembly (in its resolution 52/15) proclaimed the year 2000 as the International Year for the Culture of Peace; on 10 November 1998 (in its resolution 53/25) the UN General Assembly proclaimed the period 2001-2010 the International Decade for a Culture of Peace and Non-Violence for the Children of the World; and in 1999 (in its resolution A/53/243) the UN General Assembly adopted the Declaration and Programme of Action on a Culture of Peace.
Within this period the United Nations hopes that peoples and governments throughout the world will have created a momentum of resolve for change – transforming the present culture of dividedness, mistrust and hostility into one of cooperation, openheartedness and good neighbourliness.
Article 8 of the Declaration says: "A key role in the promotion of a culture of peace belongs to parents, teachers, politicians, journalists, religious bodies and groups, intellectuals, those engaged in scientific, philosophical and creative and artistic activities, health and humanitarian workers, social workers, managers at various levels as well as to non-governmental organizations"
The Constitution of the United Nations Educational, Scientific and Cultural Organisation's (UNESCO) says, that: "since wars begin in the minds of men, it is in the minds of men that the defenses of peace must be constructed".
The creation of a culture of peace is in the hands of each and every one of us.
Read Peace Through Unity's draft resolution for the UN General Assembly in support of the Programme of Action for a Culture of Peace.
See also the section on this website concerning the Peace Through Unity's work in support of Ministries of Peace