International Day of Peace - Wanganui 2010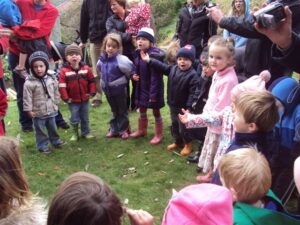 Conference at Quaker Centre
Wanganui celebrates the International Day of Peace, 21 September 2010
This year's celebrations started around 11 a.m. with the planting of 3 Gingko trees in Queens Park, the permission and cooperation of the Wanganui District Council. Undeterred by a blustering and icy wind 38 enthusiastic pre-school children from the Montessori school turned up with their parents to sing their peace songs, and to assist in the tree planting only a stone throw away from the Wanganui sculpture Handspan, dedicated to a Culture of Peace and Non-violence for the Children of the World.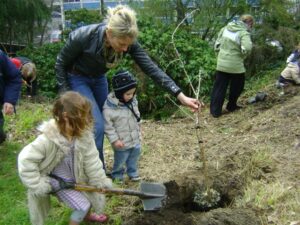 Just before midday the group made their way to the sculpture, and from there participated in the silent Peace Vigil which unites people throughout world in prayers and invocations for peace. Information on the Millions Minutes for Peace initiative was given out to all who attended.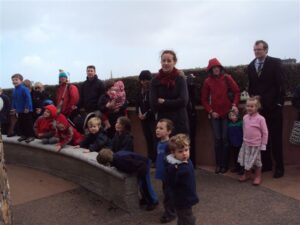 The three Gingko trees were the forerunners of the planting of 138 more trees before the 2nd October, Mahatma Gandhi's 141 birthday. This was Wanganui's contribution to the "Trees4Peace" project, an outcome of the World March for Peace and Nonviolence, launched in Wellington on the 2nd October last year; an initiative supported by Rotary, the Central Tree Crops Research Trust, Whanganui Regional Primary Health Organisation, Tree Life Nursery, different Trusts and others, who donated and distributed the trees (mostly apple trees) throughout the community. A beautiful certificate (designed and printed by HA Design&Print) has registered the 141 trees that were planted in International Year of Biodiversity to commemorate Mahatma Gandhi birthday and the UN International Day of Peace and Nonviolence.
With its healing qualities the Gingko tree was chosen to signify the theme for the 2010 UN non-governmental organizations conference (Melbourne 30 August – 1 September): to 'Advance Global Health'.
In the afternoon a meeting was held at the Whanganui Quaker Settlement with the theme 'Empowering communities to build a Culture of Peace'. Our key speaker, Michael Hartfield, introduced the theme and led the following discussion. Michael is the Programme Manager of the New Zealand Aid Programme of the Ministry of Foreign Affairs and Trade. The Wanganui Youths, who formed part of the OPTU delegation to the Melbourne conference, contributed to the lively interaction with proposals which emphasized the importance of individual and community participation for the creation of a new culture.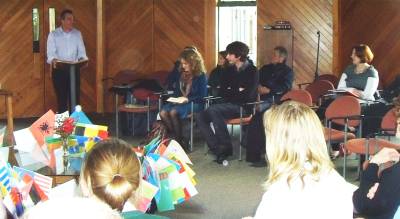 As always our meeting began with the naming of every UN Member States, praying that peace will prevail in all communities and neighbourhoods throughout the world.
Before dinner, the fourth peace tree, a crab apple tree, was planted at the entrance to the Quaker Settlement. The delicious evening meal, offering dishes from different cultures, was cooked by two young chefs, and our peace day concluded with the shared delight of consuming together the better part of an enormous chocolate cake, decorated beautifully with a white dove surrounded by flowers.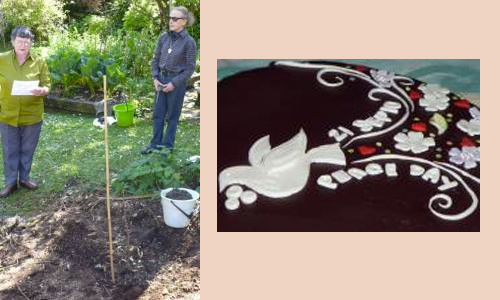 A nation's culture resides in the hearts and in the soul of its people
Mahatma Gandhi